Disclaimer: This post may contain affiliate links. Sometimes I earn a commission on purchases made through my links. (This is not always the case, though.) Any opinions I write in this blog are my own, and I would never promote a product or service I did not stand fully behind. As an Amazon Associate I earn from qualifying purchases.
We've been in our house for four years now, and I've spent the previous years getting my front flowerbed filled with perennials. This was the year I had decided my spring flower budget was going to go toward potted plants for the front porch. I actually lucked out, though, because I had a couple friends who were getting rid of some, so I didn't have to buy any. Just the plants to fill them. But, boy is it hard trying to decide what plants go together! First you have to consider the size of the container and how many plants will fit in it. Then you have to pick plants that look good together. (Trust me-some of them didn't look all that great when you got them next to each other!) Oh, but wait! Make sure they have the same light requirements! It's mind numbing.
So there I am in the different gardening sections of different stores trying to make sure I bought enough, but not too much. I hate it when I buy too much and I have to try to figure out where the extras are going. I also needed to make sure I knew what was going where, so I didn't get home to realize I had chosen all the wrong things!
The first ones were easy. I had been out shopping with a friend the week before and I knew I wanted yellow petunias, a spike, and some sort of vine for my two biggest containers. I ended up choosing Vinca vine. The color of the leaves looks amazing with yellow of the petunias. It looks a little sparse, but I know it won't be long before they fill in. In fact, I did these about three weeks ago, and they already look a lot more filled in. (I'll probably post an update in a couple more weeks, so you can see the growth.)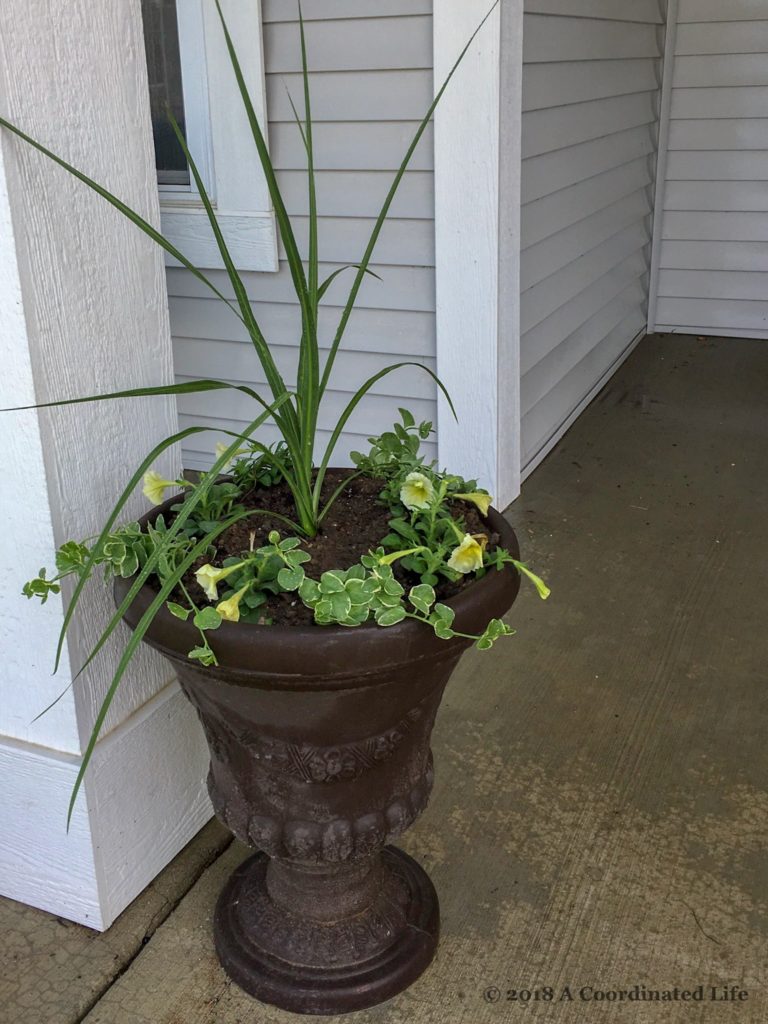 The day I did the actual planting, I had a friend come over, because I knew she could help me decide which ones to put into which pot. I had a general idea, but I was still overwhelmed by the task at hand. I mean, all together I had eight pots!
I put a flower called "stock" in my three smallest pots. The lady at the greenhouse told me they make great cut flowers and flower shops use them in arrangements a lot. And they smell absolutely divine! I put two stock and one white Bacopa into each pot.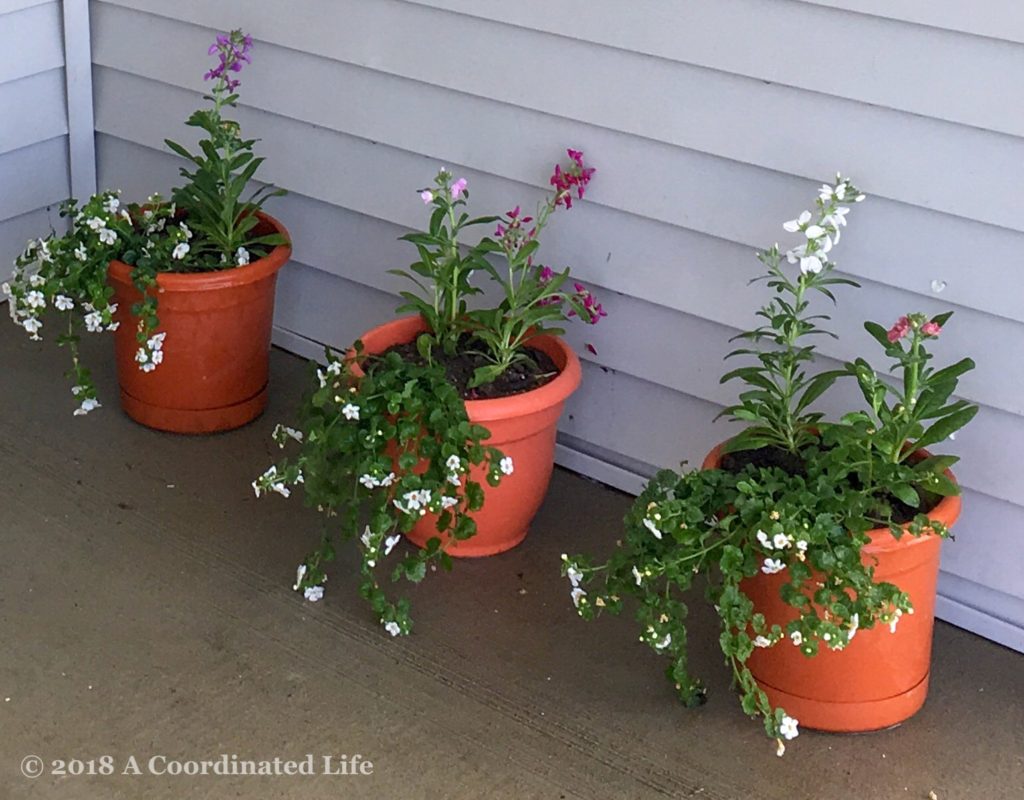 I found this upright fuchsia that I thought was really unique. I've seen the ones that trail, but I had never seen an upright one. Then I saw this Bridal Veil. It's definitely my new favorite plant! (I tend to find something new every year that becomes my "favorite." Even if it's just for a season.) I love everything about it. the green and purple leaves, the tiny white flowers, and the fullness of it.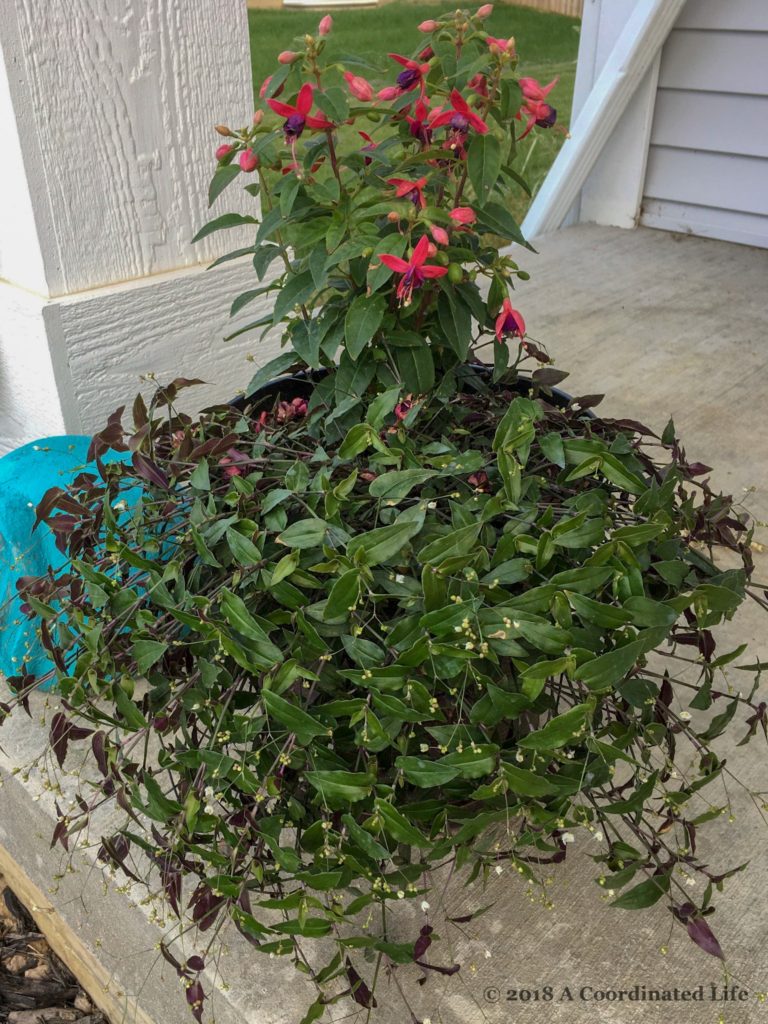 I liked it so much, I grabbed a second one to use along with my Verbena.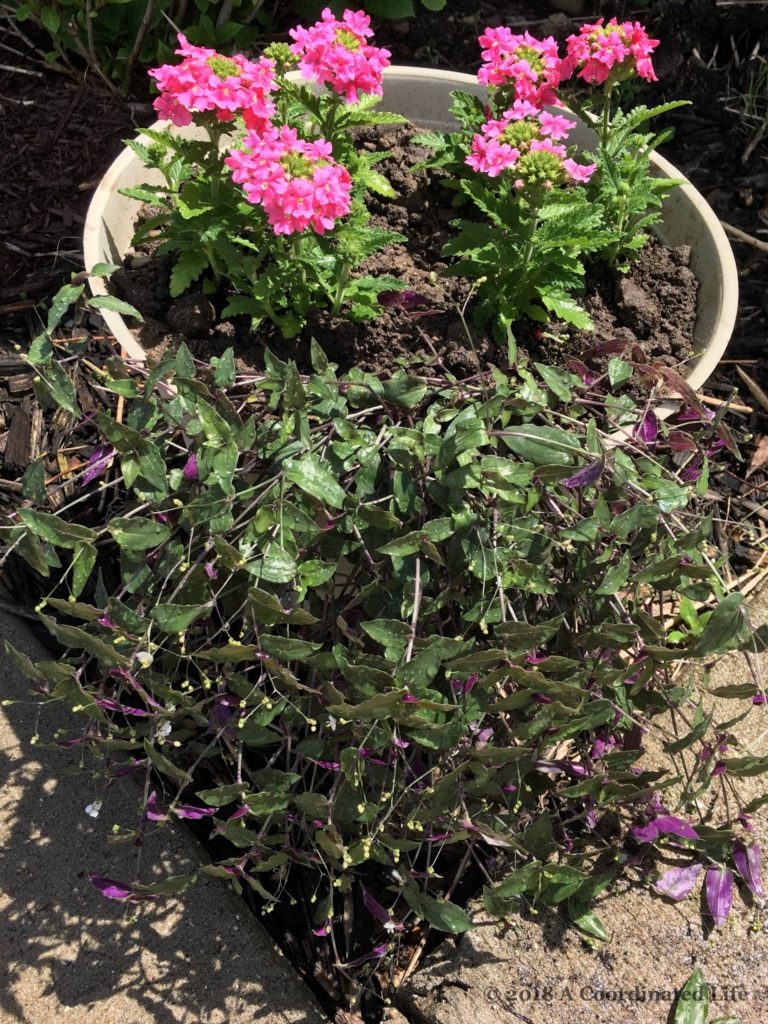 This one ended up finding a home in an empty spot at the corner of my flowerbed rather than on my porch.
That left my large rectangular pot. These shade-lovers (I think they're called Shade Impatiens) were the perfect choice. However, after one day in half sun, they were wilting and I didn't think they would make it. I moved them to a spot that doesn't get any sun, and they're thriving. (This is the one picture that I actually took today. I love how it's filling out!) I really liked the contrast of the Creeping Jenny plant with these ones.
Here's what my porch looked like when all was said and done. (Prior to moving the red pot, that is.) I'm very pleased!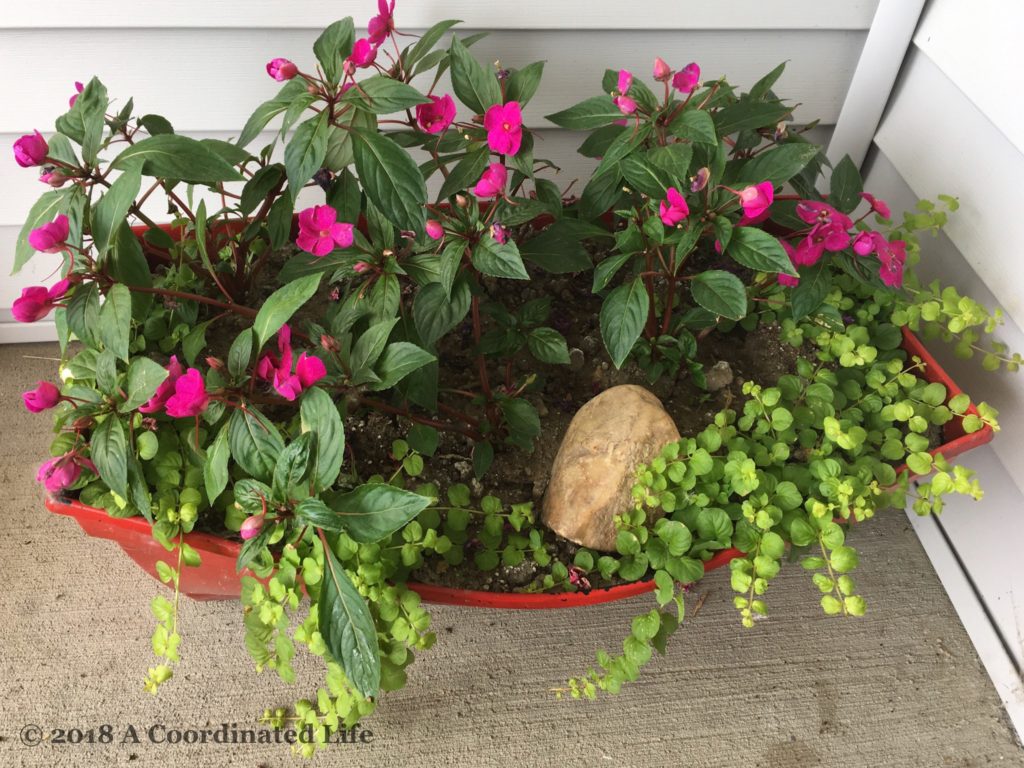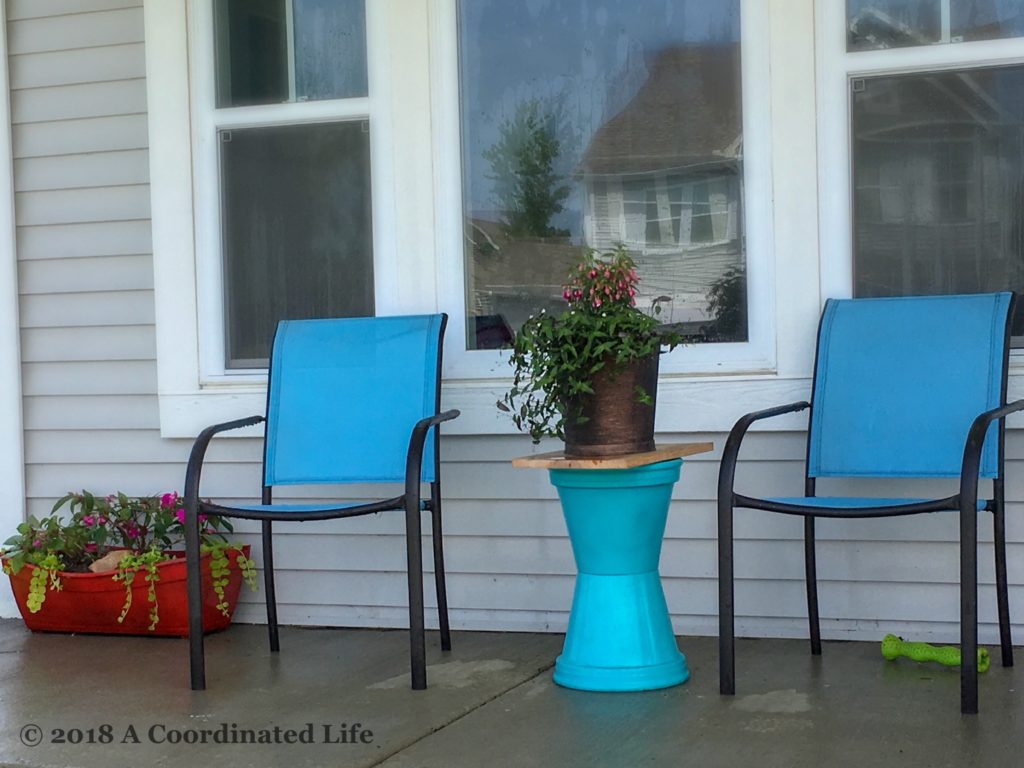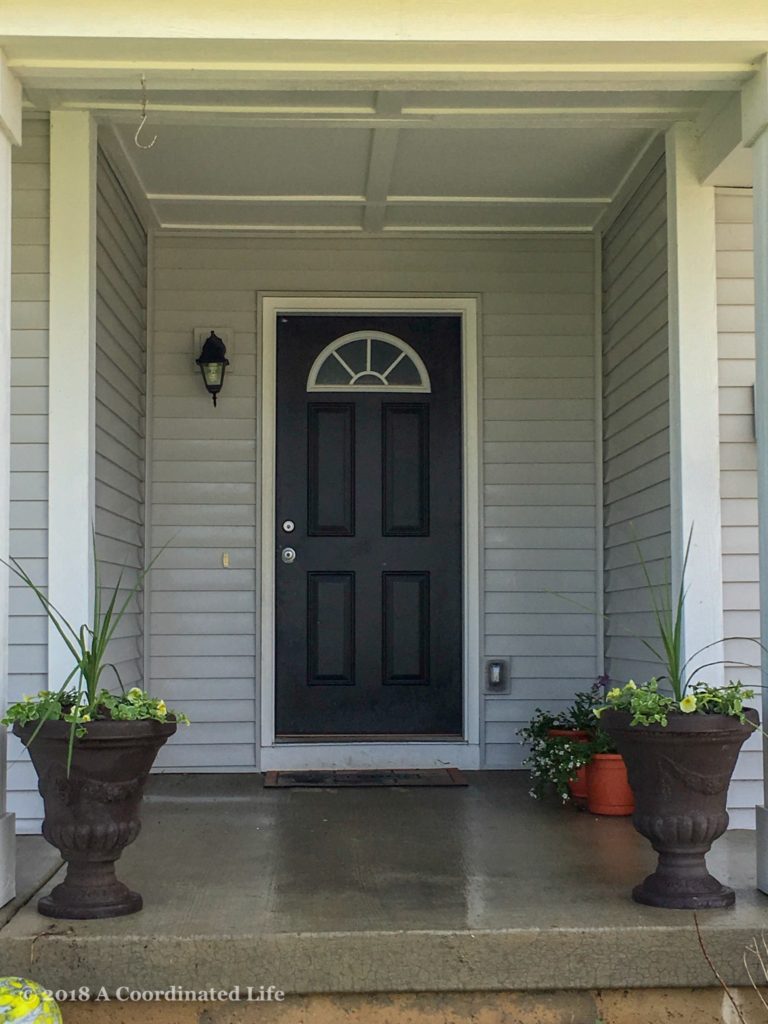 What are some of your favorite potted plants? It's never too early to start gathering ideas for next year!